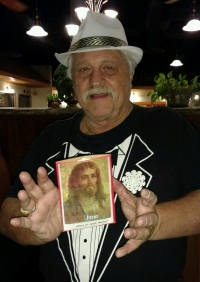 Welcome to HiltonHeadMagic.com!
---
My name is Joseph Lawski -AKA-The Magician

............. JOSEPH'S B I O .......
* (1948 - 1960) - Germany Born & Raised 13 yrs.
* (1961 - 1967) - Columbus, Ga. Baker High 1967
* (1969 - 1974) - Drafted Military (Navy)
* (1975 - 1980) - Civil Service GS-9 (Quit)
* (1981 - 1989) - Followed Magic Dream (San Diego)
* (1990 - 2010) - Magician Hilton Head Island, SC
* (2010 - 2016) - Hilton Head Island, A Broken Shoulder Hindered His Ability to perform his Complete Magic Act....
** He Prayed to "JESUS" for Guidance and He Received IT **.
* (2016) - Pine Mountain Ga.
- The Answer to the Prayer: " JESUS IN YOUR POCKET "

Click Below

View Package, Mission Statement, & Testimonials





Joseph Lawski, better known as Joseph the Magician has performed magical illusions on Hilton Head Island and the surrounding area since 1990.
He has worked at many of the local restaurants showing guest a variety of "MIRACLES" that astonish and entertain Kids as well as Adults.
When a broken shoulder hindered his ability to perform much of his magic, Joseph prayed for guidance, and he received it.
Using his knowledge of illusion, he created a Magical way to introduce the BIBLE.
MISSION 1:
***Rehabilitation / Juveniles*** A teaching tool for the youth to have FUN and LEARN about the LORD at the same time.
"The IDEA is to work with Re-hab-kids / Juveniles by introducing them to Jesus in your pocket, a 10 card, card trick to help not only preach the gospel but also to provide inmates or other at risk kids how to learn financial and personal responsibility "
MISSION 2:
GREAT ICE BREAKER for our CHRISTIAN YOUTH...Ministers and Counselors TO Share THE WORD OF JESUS with their Students.... It Starts With a spectator selecting a card without looking at it. The story that is told is about LIFE, MONEY, DREAMS, LOVE & HEALTH, etc Plus it refers to the Bible in many ways. At the conclusion of the story, when the spectator is asked to turn their selected card over, it is the only card with an image of JESUS on it....(The Story is included)
Joseph calls this "JESUS in your Pocket" a Magical Way to start a BIBLE Study
AMAZING.. This is also a Great FUND-RAISER for CHURCHES..and Christmas / Easter presents...ONLY $10.00"

---
--------------------------------- Joseph's - YouTube TESTIMONIAL -----------------
-------------------------------------- THE POWER OF PRAYER --------------
NEW!!! JESUS IN YOUR POCKET
Click below to order!

---
(SECRET CODE)

To VIEW your Instructional Video a Secret Code is required.
The Code is inside your (Jesus in your Pocket) Packet..
JESUS in your POCKET Distribution Center

Art + SOUL
Main Street Hilton Head Island, Across from the Main Street Cafe
Click for VIDEO

MAGIC ..



RESTAURANTS:
Click for VIDEO

PLEASE CALL For DATES & TIMES...Thank you..


*(1) Carriage & Horses Pine Mountain Ga.
RESERVATIONS Only..706-663-4777..
*(2) El Rio Grande, Lanett - Ala 334-644-3100...
Why Hire Joseph to your next Party ??

---
* PLEASE READ MY REVIEWS or Write about JOSEPH Performance..THANK YOU
***TITLE of NEW Book****
...COMMING to AMERICA.....EVERY PICTURE TELLS A STORY.....
For More "MAGIC NEWS" Please Click on News Above